Haven't had my computer for over a week since my whole family's been ill. This is going to be a long post. I hear it makes for easy, light evening reading...
Got a lot of work done on the car since I wasn't at work all day. I used a heat gun and putty knife to remove the trunk sound deadening. I didn't know BMW put 2 layers on. It was almost easier to remove the top layer then the bottom. Some of it came off in big pieces. Other areas, not so much.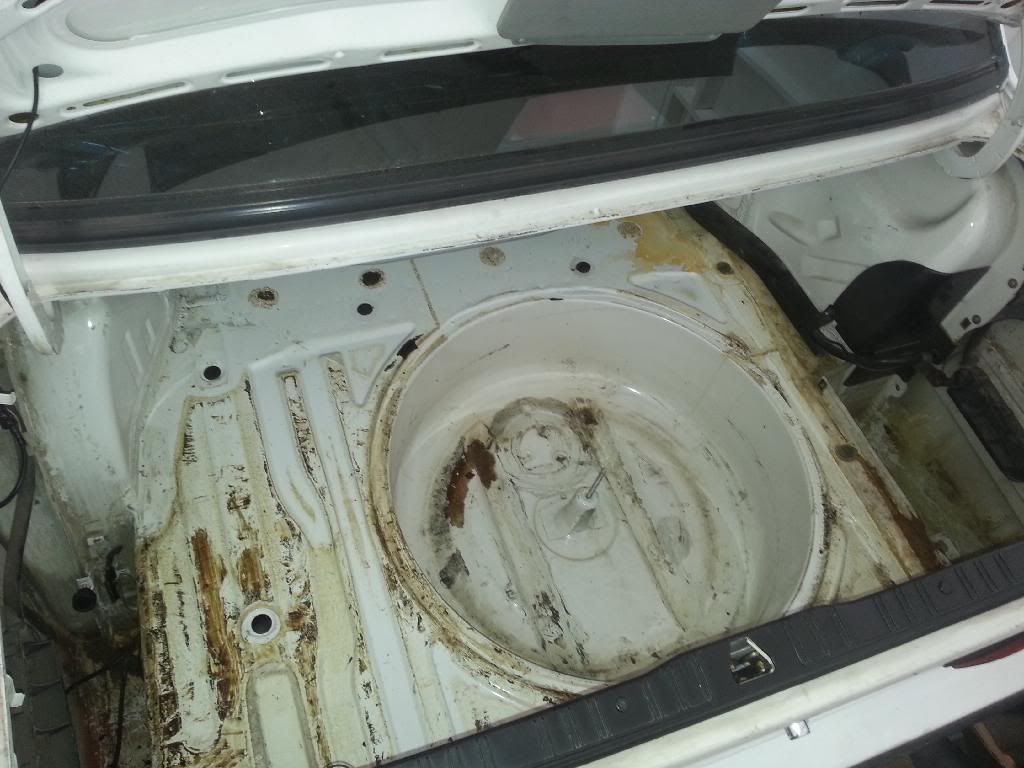 I decided I wanted to try the dry ice method. Turns out you can do the whole interior with one bag but I'm glad I had two just in case:
Total sound deadening weight for the trunk, rear seat, and driver and passenger foot wells was 50.6lbs.
Carpet out: Weighed in at 30lbs
Started on the seam sealer. So thick around the rear seat/trans tunnel junction. I had the garage door closed and because I was wearing a respirator and goggles didn't notice I'd completely hot boxed the garage in smoke and dust. It billowed out for like 5 minutes when I opened it. Hope the neighbors weren't getting any funny ideas about how we run things 'round here...but I supposed it would be a good way to help toddlers sleep.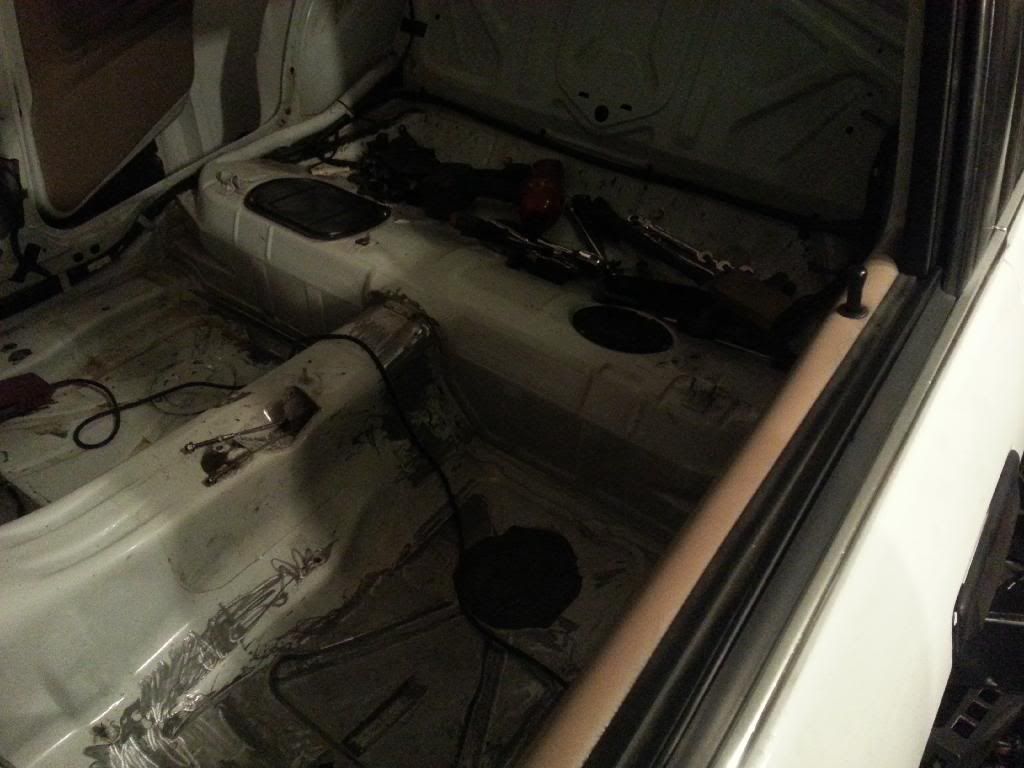 Then I turned to the sunroof. I removed the panel and found this: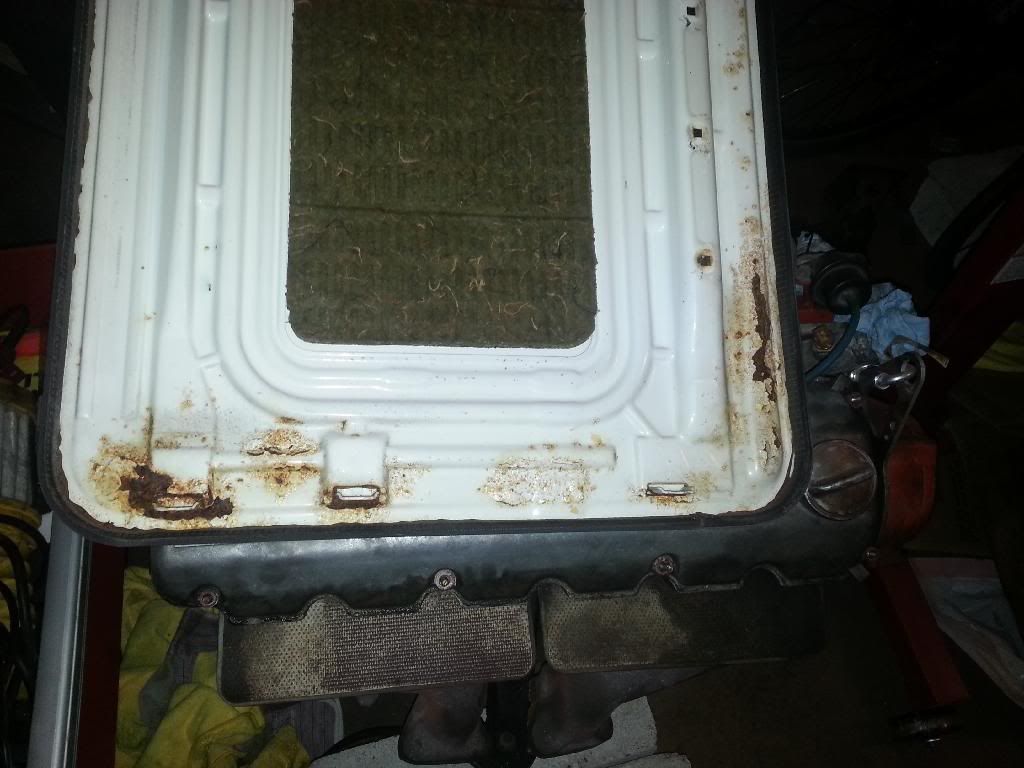 Gnarly. I wondered why rust was falling on my head when I drove with the sunroof slightly cracked. The whole panel was full of rust dust and pieces of metal. The panel from the 86 is perfect so I will use it or fab up a CF/glass cover. I'll use the existing panel as a mold along with a bit extra on the ends to match the hole. I borrowed a welder from my bro-in-law and will practice on the other shell first. As I understand it: Pre heat the roof skin, quick tack welds, cool off ASAP after welding. What could go wrong?!
I used a sawzall to trim the cassette opening. This really helped when I started in with the heat gun to get between the roof skin and the cassette with a putty knife.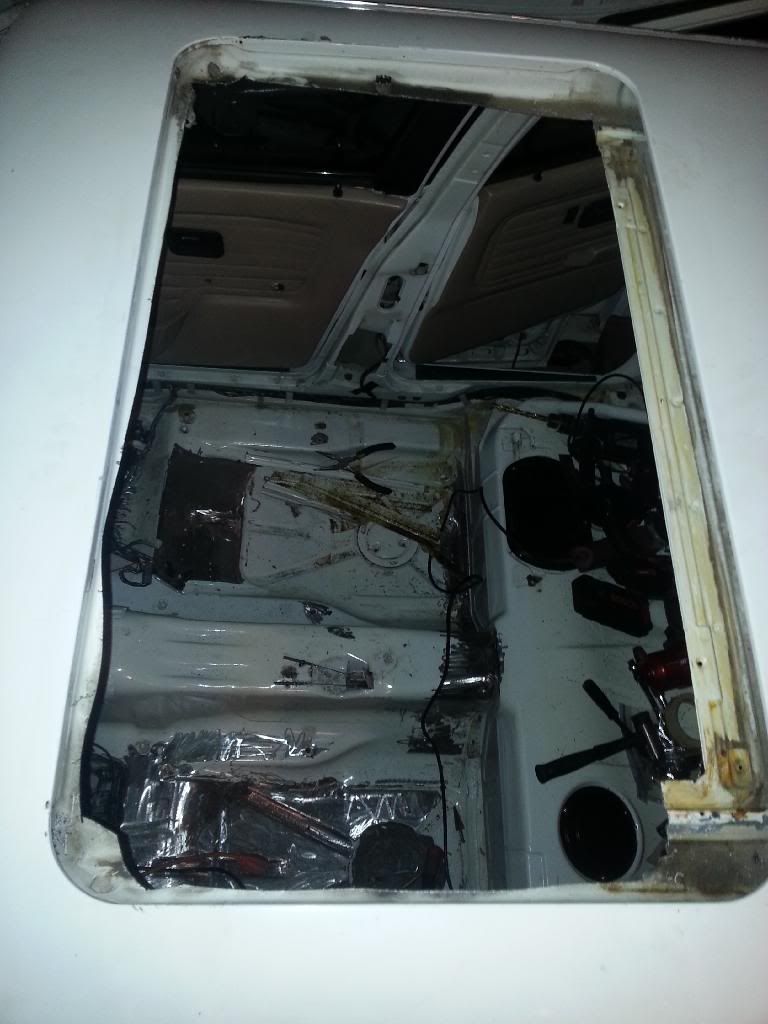 Followed a DIY for the cassette removal and it went without a hitch. Thought I messed up when the pass side wouldn't budge but it was because I missed a spot weld.
I won. Cassette and parts weight in at roughly 30-35 as everyone claims.
I found a powder coating setup including respirator, IR thermometer, oven, gun, a drawer full of various colors, plugs, tape etc for like $80 from the local drift FB page. I plan on making a larger oven out of a single door freezer when I can find a free one. Ran a 220v line and learned about that--good thing it was a pretty easy run from the fuse box to the shop. The guy at Lowes was a total ringer for Heisenberg but his knowledge was electronics not chemistry, still fun. I have the oven on a furniture dolly so I can keep it outside in a tarp and not piss off my wife.
The kids think it's hilarious having car parts all over the garage. I gave them the best seats in the house as I build a chain-link fence gate around the 86 shell in the side driveway. I bought a license to have a non-op car in the driveway for a year for like $10. Rediculous local ordinance.
The parts pile next to the car grows huge. I don't even want to put much of it back in the car.
On a sour note I dropped my instrument cluster and cracked the plastic cover and who knows what inside. Maybe it's time to screw the whole dash and cluster and run only the bluetooth gauge app/connector Codrum sells on here and a digital dash from DIYAutotune. I'm going to practice repairing both dashes and flocking one and recovering the other in ultrasuede. I'd like to see how much foam I can get away with removing. The goal is to remove as much front end weight as possible. I can always add more gas to the rear/mid and a spare tire later. It would be fantastic to run GPS-based telemetry and all that and analyze data at the end of a day of autocross. #dreambig