You guys may have seen this a couple years back, but it is finally on the road.
Some quick information on the car.
Its a 1986 325iX in diamond Schwarz Metallic. Looking up the vin, it seems to be one of the first iX's produced (11/85 with production starting in 10/85). The car was brought in to the US through Texas in March of '86. It didn't pass inspection (federalization) until October of '89 according to the VIN report. It has lived in Colorado ever since and passed a few hands until I found it.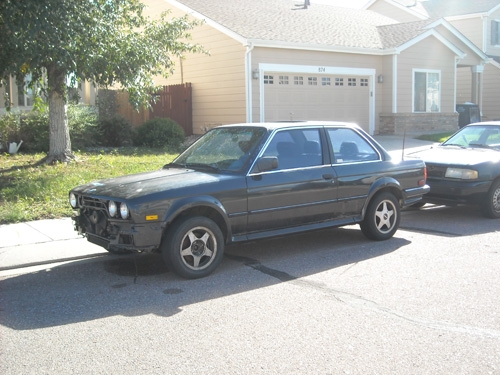 It was the euro M20B25, so 9.7:1 Long Skirt Pistons, Motronic 1.0 073 ECU, taurus red leather sport interior, ski bag, ac, 13 button obc, sport mtech 1 steering wheel, rear headrests, power windows, power mirrors, power sunroof, euro bumpers, iS rear spoiler, front and rear fogs, and the Jimmy Hill Chin Spoiler.
The guy I picked it up from messed up too much to detail, but I made a few changes in fixing it.
+2 86mm Block Overbore
Forged JE Flat top Pistons 9.5:1 CR
H Beam Forged Rods
M54B30 Crank 89.6 mm Stroker
Crank Spacer
Stock Flywheel with full rotating assembly balanced
F1 Racing 6 Puck Clutch
Z3 1.9 Shift Lever
Gates Racing Belt
Motronic 1.3 Engine Harness and ECU Upgrade
Rebuilt 885 Head Stock Cam and Valves
Ottoco 86mm MLS Head Gasket
Later Style Water Pump, Radiator and Coolant Reservoir
3.64 Viscous Differentials
AEM Wideband Oxygen Sensor
BBS front Valence
I have some 24# injectors I was planning to run but I am having trouble with my whodwho MS2 Extra PNP MS2 setup. I think I need to change to a Variable TPS from an M5x engine to make it work correctly.
Couple more photos: