Hello R3V! Long time lurker, first time poster.
I'll keep the intro short: Car guy all my life. Grew up with a '71 MGB in the garage, which most likely sparked the passion that would come to define my life. Went to Michigan State University for ME, now working as a chassis controls calibrator for a major supplier to a major OEM, driving all day every day.
Got my first E30 in college for a steal at 1200. A '90 Brilliantrot 325i. All it needed was a battery and it dealt with my continued abuse for about 4 years before it was sold to a friend to live the rally cross life.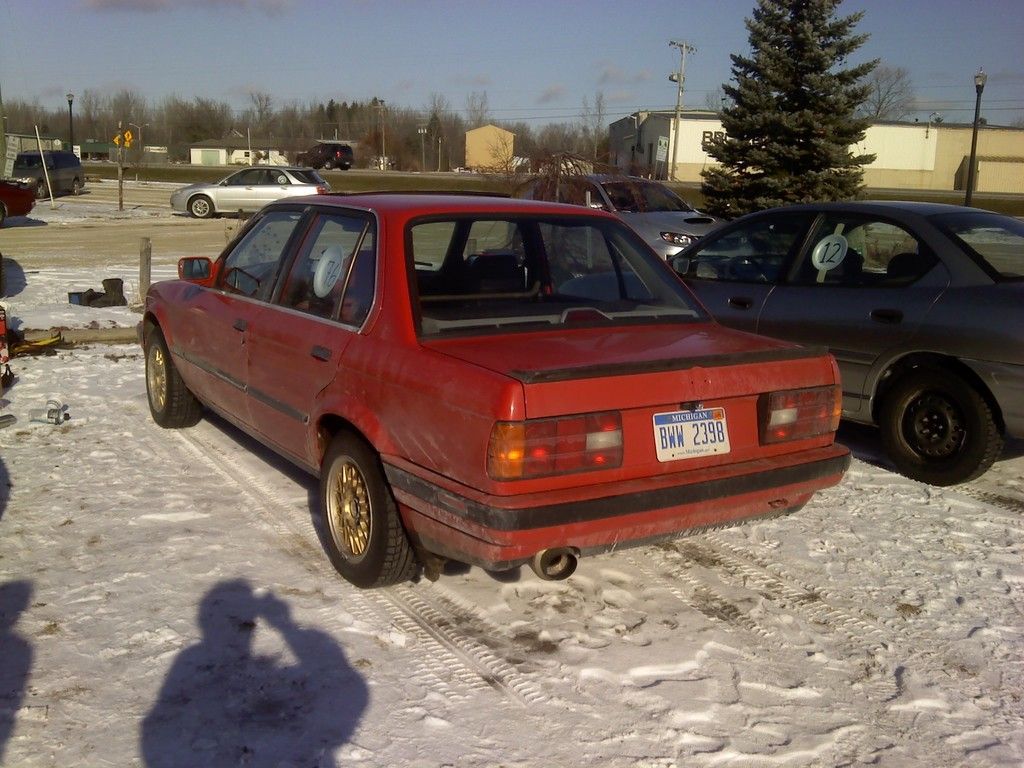 Next up was another '90 325, this time an Alpine IS. Purchased as an autotragic with a supposedly blown head gasket and a complete manual swap included. I say supposedly because every test in the book pointed to the M20 being healthy, minus some badly worn rings. I drove it for the summer while accumulating parts, and in the fall I (and some generous friends) pulled the engine and trans, swapped it to manual, and rebuilt the bottom end... in a weekend. Didn't sleep, but didn't care; that soul-sucking slush-box was finally gone. I had grand plans of a resto-mod DD, but alas I suffer from the genetic defect that makes me lust after long roofs...
Which leads me to E30 #3 and the focus of this thread: my forever car, an '89 325i Touring. I researched importing for a bit, but buying a car sight unseen was a turn off, not to mention the importation process. Then I found her, of all places, on EBay. An '89 325i in Lachsilber, RHD, and auto. Definitely some compromises in there, but she was a rust free base (something I've come to greatly appreciate, having lived my whole life in the salted Earth that is Michigan in the winter). The price was right and the auto wasn't an issue given my drivetrain plans, so I pulled the trigger. Using SkyMiles (thanks work!), the ladyfriend and I flew to Quarry Motors in Florida to drive the car home. Having been through some issues with my previous E30's, I was hesitant to drive an unseen 28 year-old car 1300 miles through the U.S. but the detailed pictures Neil at Quarry provided put my mind at ease. When I arrived, I was not disappointed:
And it was parked next to the nicest E30 I've seen to date.
The transaction went smoothly and Neil was great to work with. You can tell he's a real enthusiast and it showed in the level of detail in the Alpina Touring. I'll be going back to him to import some of the rarer Touring pieces.
Fitting, given she's British.
She made the drive with no issues, but I did manage to find a handful of things: as the astute of you may have noticed, the speedo backlight is out and the tach is reading unreasonably high. A quick jaunt to redline all but confirmed that the wrong coding plug is in the cluster. That leads me to believe that the cluster has been replaced at some point. So the mileage can't be trusted, but based on the condition of the chassis I think the mileage is actually
less
than what it says.
After first arriving home.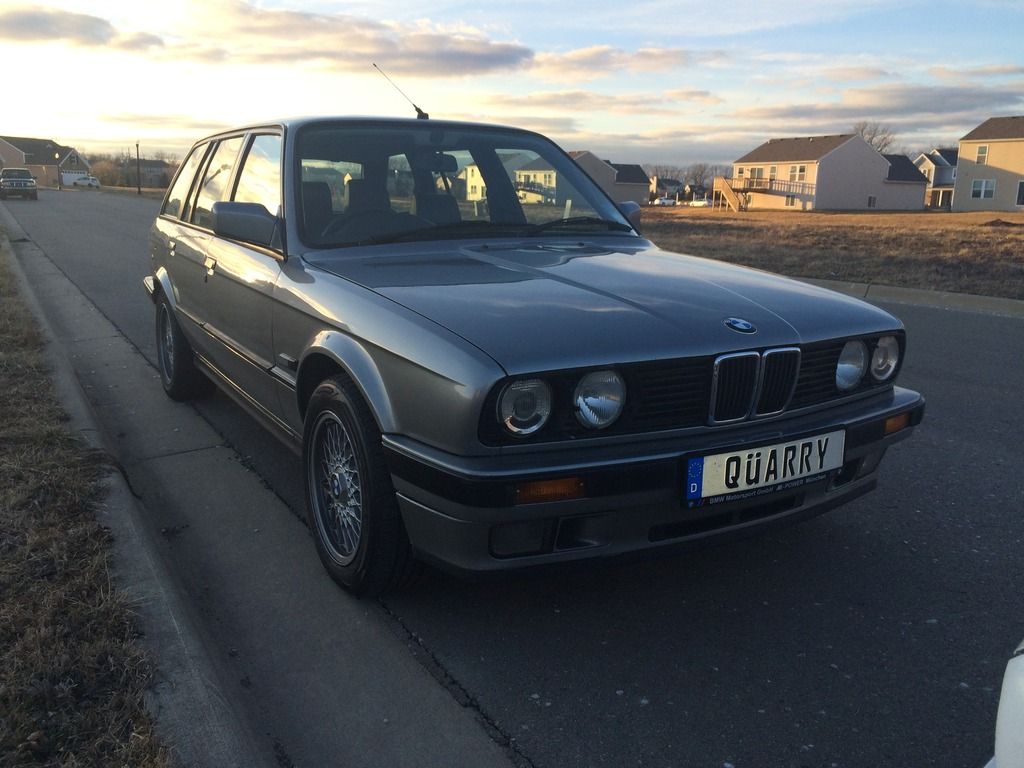 Removed the ///M badge immediately. No M parts, no M badge.
Some musings about driving RHD: If you've never done it before, it's weird. I've driven some at work before, but it had been a few years. On the open road I found myself hyper aware of where the road lines were, constatnly worried that I was over the left line. For the first half of the trip I actually adjusted the mirrors down so that I could see the lines. The human brain is a remarkable tool, however, and you adjust. I can now hop in and out of LHD and RHD cars and be confident I'm in the lines.
I was also sure that after driving RHD for a month or two the fun factor would wear off and I'd dislike it. It hasn't. After dailying it all summer I still get that goofy grin when I step into the right side. I had 100% planned on swapping to LHD by getting a donor chassis and swapping everything. Now, I'm not so sure. Plus, the brake booster set-up will be an advantage for the planned engine swap(s).
As she sits now.
I've compiled a list of everything she needs, but it's OCD-detailed and not entirely relavent for an opening post. I'll stick to the main points.
What I've done so far:
- Regular synthetic oil changes
- Swapped MTech-2 steering wheel, alcantara wrapped
- IS lip
- Blacked-out kidneys
- Compiled a list of all the shit that needs to be replaced/upgraded
The short term plan:
- Repair/replace said shit
- KILL ALL RUST. KILL IT WITH FIRE. And POR-15. Mostly POR-15.
- Manual swap. Trying to go 6-speed first but have a Getrag 260 as plan-B.
- 3.73 LSD
- Fix newly formed oil leak.
- Replace all weather seals I can get my hands on.
- H&R Sport springs
Mid-term plan:
- S54 with 420G
- Wheels, tires
- Ground Control suspension
- Brake upgrade
- Sport seats
Long-term plan:
- Glass-out paint, color TBD
- Reupholster
- N54/5?
As the title suggests, I have no plans of ever selling this car. No manufacturer makes what I consider my "perfect car," so I'm taking a hint from Ferdinand Porsche and building my own. I'll be taking my time and doing things right (and most likely re-doing them, as the engineer in me is never 100% satisfied with my work on the first go). My end goal is a fun, comfortable, and deceptively fast daily driver. It may take me a few years, and an embarrassing amount of money to get there, but I will.
This thread will serve as both a build diary and a motivator for me to keep up with the car. Progress may be sporadic in the summer months when racing takes up most of my time (and funding), but everything else will go into this car. Hopefully I can spread a little Touring knowledge while I'm at it.
*UPDATE: Project Goals*
I believe that every project needs a goal. Otherwise, how do you know what you're working towards? You can build a car with all the parts in the world but if they don't work together you can end up with a mess that's not worth driving.
My goal: C7 Corvette Grand Sport performance levels in a sleeper wagon form. Let me explain…
At work, one of my major tasks is traction control calibration for GM performance cars, and my first one was tuning the C7 Grand Sport. I spent the better part of a summer whipping that thing around a skid pad and I can say with confidence that everything that the magazines say are true: the chassis/power balance is perfect. The performance is accessible, but still requires a skilled hand to get that last 10% out of it. It's essentially a 450hp momentum car.
Over the course of that summer I just got used to that level of casual ass-hauling. I owned an AP2 S2000 at the time and loved it, but after driving the C7 GS all day it was legitimately disappointing (I ultimately sold it. POUNDSIGNBECAUSERACECAR). As a result, the Grand Sport became my new benchmark for daily driver performance.
"Well then, why not grow a dad 'stache, get some jean shorts, and buy a C7?"
Because student loans suck. And race car. And house. And E30's kick ass.
Plus, in Spec Miata we're not allowed to tinker a lot (we do, but in a VERY limited scope. That's a whole other discussion) and I need an outlet for my inner enginerd. I want to see if I can take a 28 year old wagon and make it capable of going toe-to-toe with a modern Corvette, while also being more practical and cheaper to maintain.
With that said, here's target performance:
0-60: 3.9s
60-0: 90ft
Lat Accel: 1.18g
Fuel Econ: 16/25/19mpg
That's a tall order for a reliable daily driven E30, but I don't think it's unrealistic. Also not captured in mag data is NVH (noise, vibration, harshness). OEM's have NVH targets and the equipment to measure it, but it's a little harder for us enthusiasts to quantify. My target for that is "comfortable enough for Michigan roads." I hate using subjective targets, but it is what it is.
Speaking of subjective targets, probably the most important aspect of this project is unquantifiable: it needs to be fun. It's a subject that's been beaten to death but is never the less true; a lot of modern cars simply aren't fun to drive. Cars as a whole are faster than they've ever been, and yet they're somehow disconnected from the driver. For cars I've driven, the GTR is my prime example. Ludicrously fast, yet numb to the driver. You're simply the meat sack giving it a direction. Point and go (and boy does it go). But that's boring. I need a car that requires an operator, that wants to work with me, not for me.
So, how is this going to come together? With time, monies, and mediocre engineering prowess. This is the plan so far:
- Powertrain: S54, 420G trans, 3.73 rear end ratio.
- Suspension: Ground Control kit with custom spring rate, double adjustable dampers, camber plates in front, adjustability kit for rear, ARB TBD, 80A polyurethane bushings throughout
- Steering: E46 "purple tag" rack, solid steering linkage
- Tires: Dunlop ZII Star Specs, 235/45R17 front, 255/40R17 rear
- Brakes: TBD. Definitely need increased thermal capacity. Open to suggestions.
"But your target car has a V8. Why not LS is, bro?"
I ran the numbers, and came up with this:
This chart compares the non-tire limited acceleration capability of the two cars (Corvette in thick line, E30 in thin). I take the engine torque from dyno plots, multiply it by the gear ratios (trans and diff)to get actual torque at the wheels, convert that torque to force using wheel size, then F=ma to get the theoretical acceleration of the car. Simple, right? Of course, both cars are tire limited on launch, but they are remarkably similar throughout. One of my favorite things about the C7 is the ability to hit the pedal at any speed in any gear and actually feel something. According to this chart, an S54'd E30 will do that.
Also, this:
https://youtu.be/6wJXsUsX6eo
Good lord that sound...
So, those are the goals for the project. Way easier said than done, but you've got to start somewhere.