Brakes are mounted in the car, I have plumbed them up, but haven't filled with fluid and bleed them yet as I have been mucho busy focusing on other shit, like tidying up the yard :(
But anyway I have been doing other stuff since the brakes.
I got out all my shit to do a bit of a stock take and get a plan. Not shown is the radiator as there has been a change of plans. The Landcruiser copper radiator will be no more. An Alloy Nissan S14 radiator of biggest possible size (to fit in the hole) is coming. It has the outlets in roughly the right spot so should be able to make it work without too much drama, just some new mounts and a fan and we'll be done.
Probably other little shit, but this basically what I am putting into my Turbo M42 project. About 5K on my driveway and there are alot of freebies in there too (like the manifold and dump pipe)!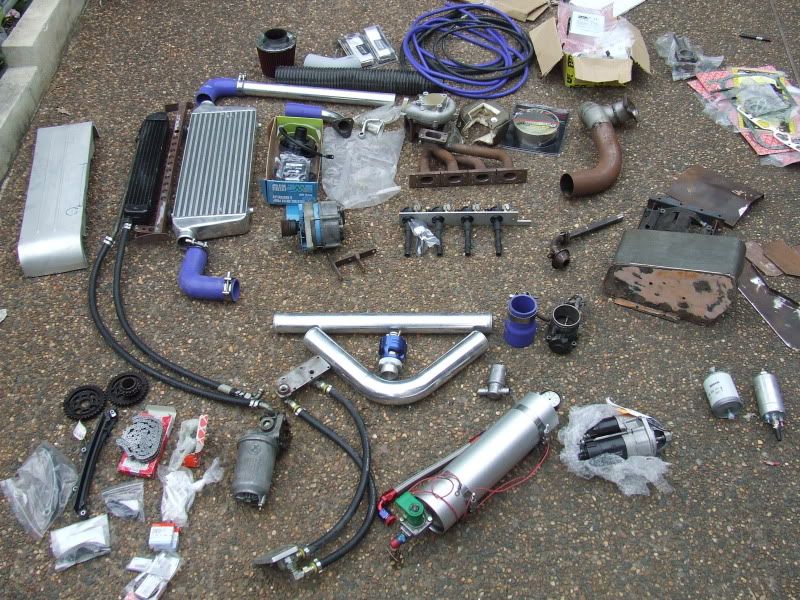 Spent a good 4-5 hours stuffing around getting the pieces for the sump finallised. Then we got it all tacked up for the final time!
Brother has some new found TIG skills and with our recently acquired bottle of Argon the TIG has been working overtime. Welding of the sump is about 50% complete.
I'm hoping to get stuck into the intake modifications tomorrow and can potentially get that bowled over (minus welding). Also hoping too look at mounting the sway bar out front but I have a 21st to attend so we shall see. And that will probably be where progress stops before I go back to work next week :( Shit will still be happening. We are in full swing now!