Hey guys and girls. This will be the story of my 1984 325e, which I got for free from a friend I was working for about a year ago. Just a general assembly thread so I can keep track of what I am doing, and get helpful ideas and criticism. If I ever sell the car it will also help buyers see what has been done to the car.
The car was one of my moms clients cars. It was passed on to him by his mother after she died, and he was VERY attached to the car. I almost bought the car years ago after my car was totaled, but he could not let it go. A few years later, while I was working on his house, he offered the car to me as a gift. They were moving down to LA and his wife did not want him bringing the car.
Sins then I have done a lot of general maintenance to get the car running correctly after sitting in a drive way rotting under the sun for years. New belts, water pump, hoses, filters, brake maintenance and all kinds of small stuff. I also threw on some Eibach springs and Bilstein HD struts all around, as well as some e90 drop hats.
The car took me up to WA for a year for school and saw some snow spinning, and other dirty conditions. It was a real trooper, and got me out of some pinches very nicely. Now its time to give back to the car.
On the way down from WA the fan ate its way through the water pump-thermostat hose. It was messy but I fix it with some electrical tape and a piece of rubber from a tire I found on the side of the road. My Macgyver got us 100+ miles back home to CA.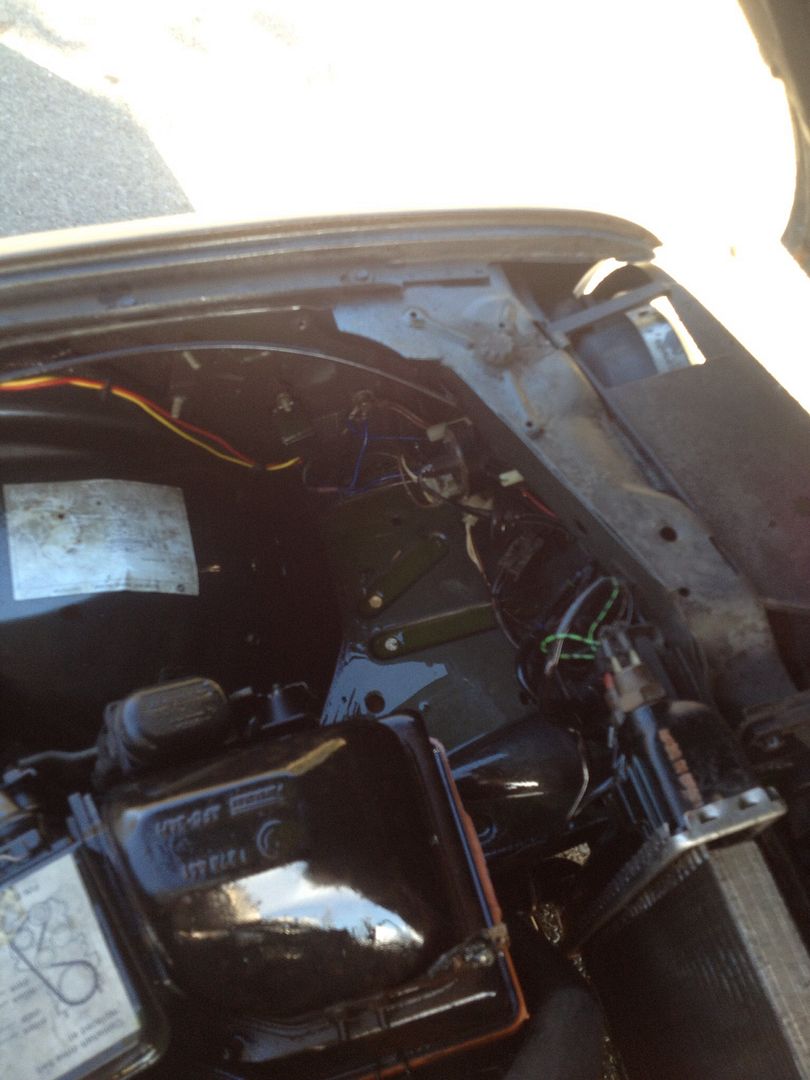 I figure the engine mounts are shot so the fan contacted the hose while the engine was moving around. The car was also loaded up HEAVY!
Now that the car is back in CA it wont see long distance driving or adverse weather conditions. I want to use it as a fun car, and do some weekend driving and casual autox and track days.
This is her as she sits as of 09/25/13. She is not nice to look at, but she runs great. I had to calk up the windows in WA because she was leaking badly and I did not have the money to do things correctly. I will remedy that soon. Thats also why the back seats and carpet are missing. They got moldy and stank! I don't think I will replace those.
I did a few small things to her.
Z3 antenna
e21 seats (need rebuild)
Newer dash from Quadrajet
NRG wheel (dont like it much)
Boots from Cletonius
More "up to date" head unit and speakers
Euro grills and US ellipsoids from CAtuned
HID lighting (plain white)
Hella 500 fogs for WA weather
"es" front end
3.73 LSD from CAtuned
Dlerin knob from robsgotit
Working gauge cluster from Quadrajet
e36 switches
e36 ebrake handle
Excuse all the dirt. I dont want to clean the car until after I am done working on it.