Alright ladies and gentleman, most of ya should be expecting this by now after the dirty turd I dropped in the Facebook group earlier this week. Its got quite a bit more response than I'd expected and I said I wasn't going to do this again... but why the hell not.
For those interested in a prolouge, check out the last build:
I bought this car from a local father and son who never intended to sell it. They were in the middle of resealing the spaghetti monster under the M42 intake manifold when Harvey rolled through the Houston area and handed us all our asses via 30+ inches of rain in 2 days (Aug 26 – 28, 2017) of unrelenting torrential downpour. Exacerbating the already prolific rise of rain water was Lake Conroe, filled to its brim, forcing the San Jacinto River Authority to open the dam, flooding the spill way and much of Conroe.
Reports say as many as a million cars in the Houston area were flooded. This is the story of one.
-= Project Weißer Regen=-
Word of the loss was delivered to me from my buddy Kris, via a text message, letting me know a 91 318iS I might be interested was available here: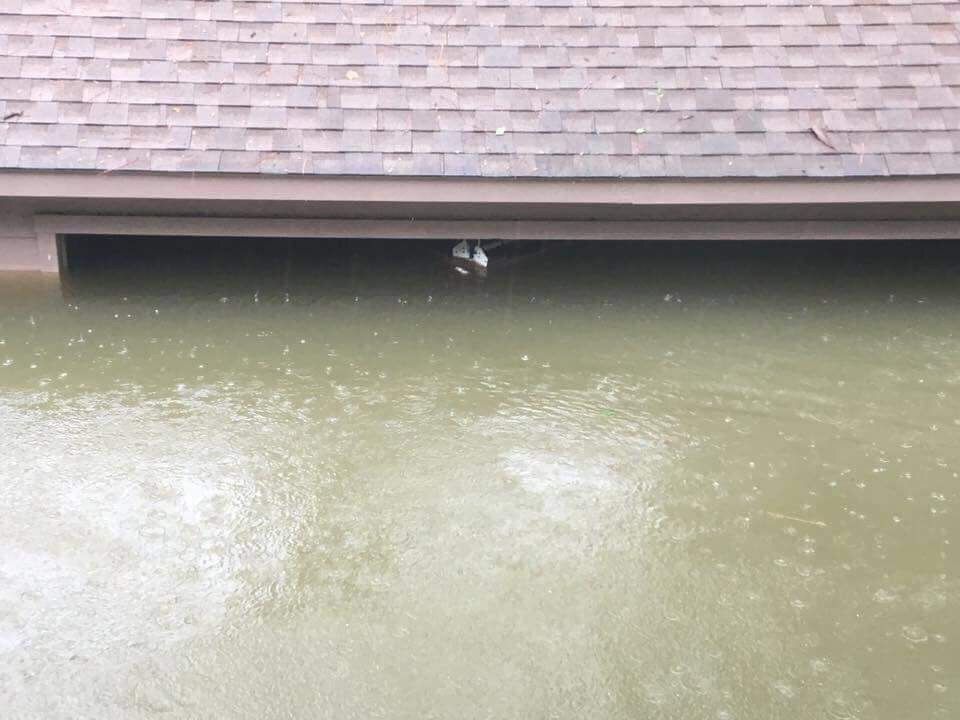 Me being a glutton for punishment of course I was interested in knowing more. As soon as the flood waters receded I arranged for the car to be transported and had my first look.
There she is, in her oily dirt film dress. A little worse for the wash.
The first evening I had the car I pulled the seats, carpet, trunk liners, parcel tray and other soft parts that harbor wetness and mildew, then proceeded to pressure wash the car inside and out after knocking out the body plugs in the floor for ensure complete drainage.
Here she is after the initial bath.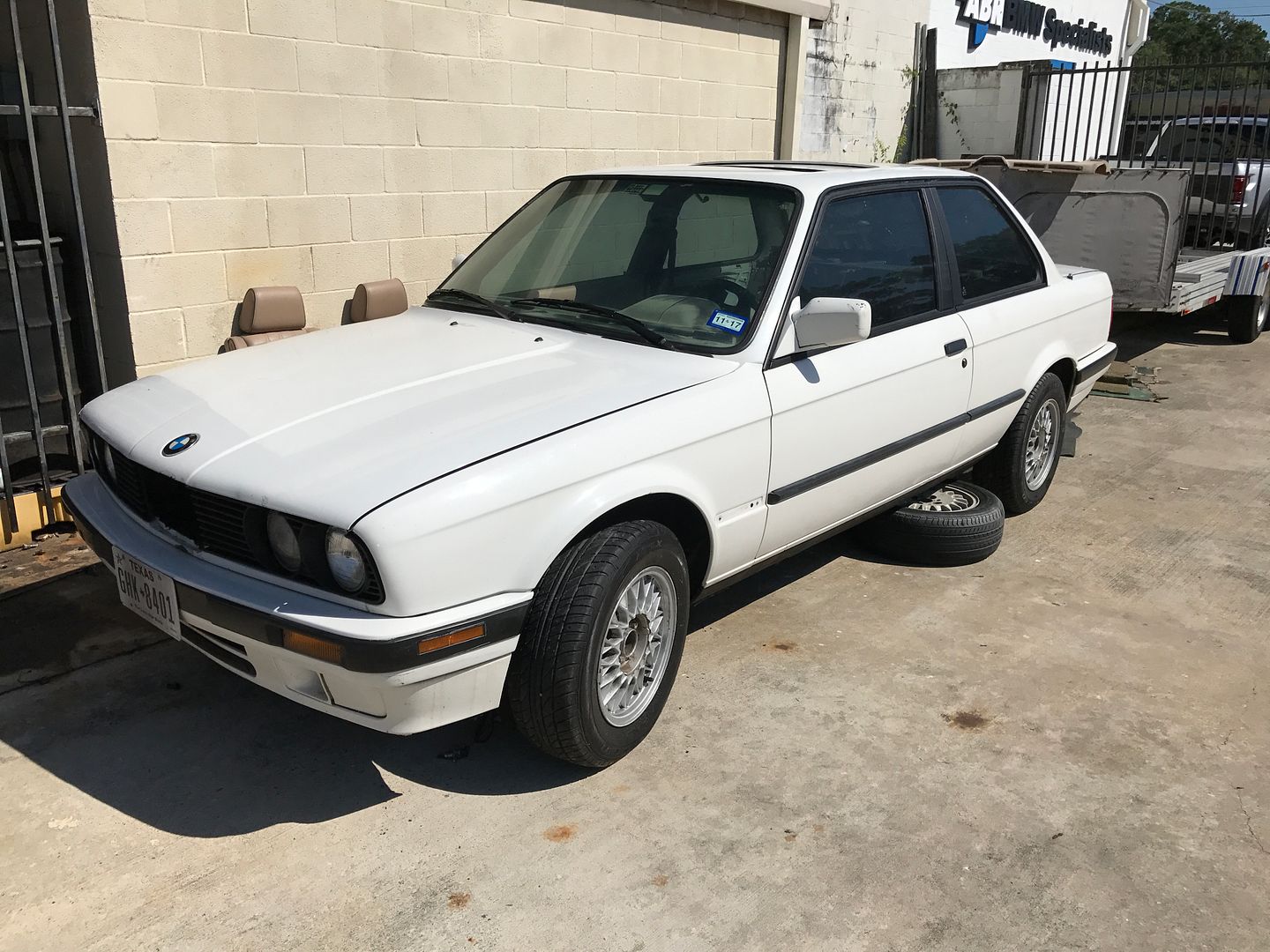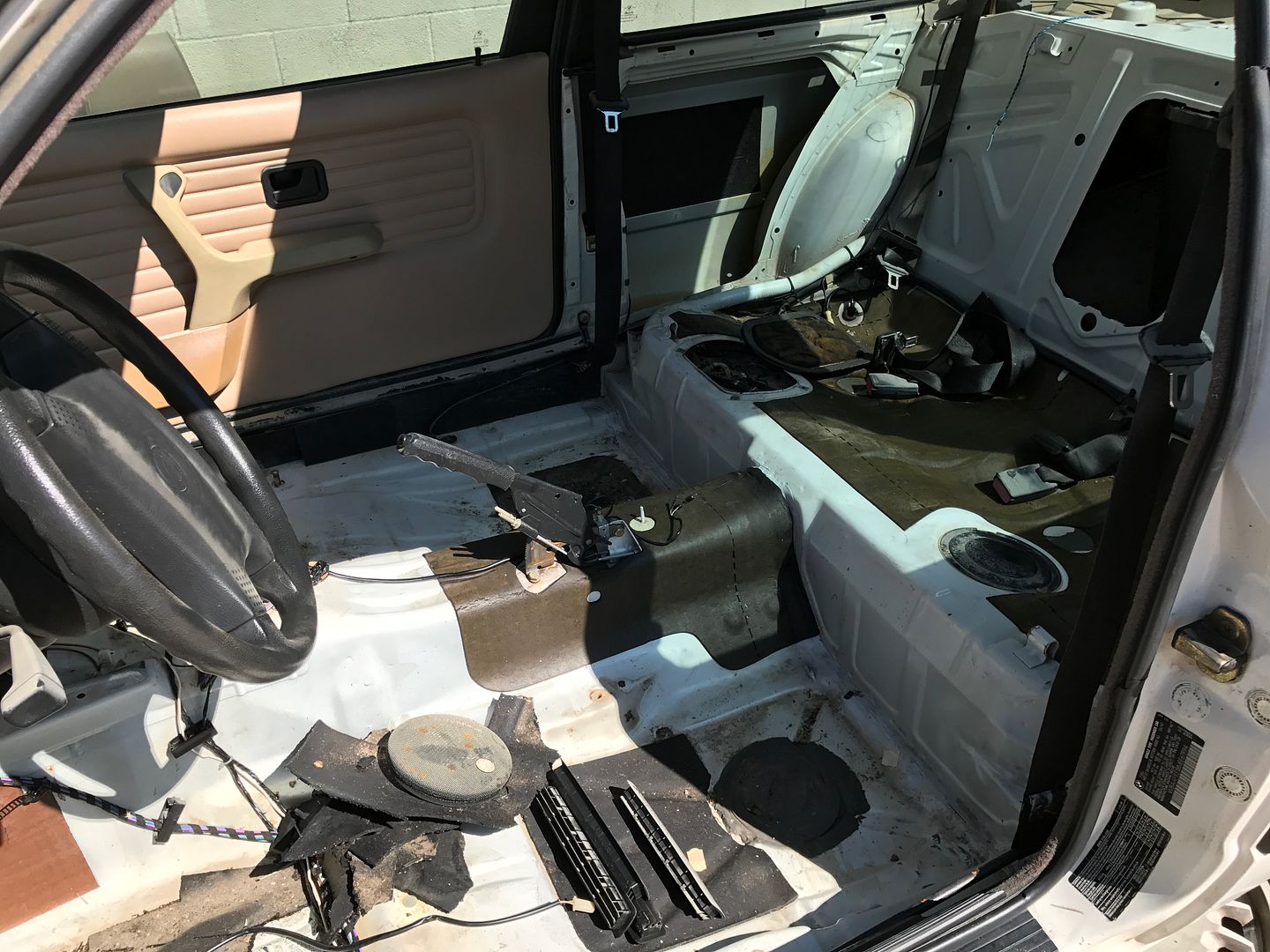 More to follow....
Since this thread has grown to massive lengths I've taken the time to make a table of contents so you can easily jump to the portion of the build you'd like to read about or reference.
TABLE OF CONTENTS BELOW (clickable links)
Initial acquisition, gutting of water damaged upholstery
Vehicle assessment, remove drivetrain and electrical (9-9-2017)
Initial bodywork, sun roof skin removal (9-14-17)
Slicktop installation, core support replacement[ (9-17-17)
More bodywork progress, hardware preparation for plating (9-23-17)
Rotissierie setup, shell undercarriage cleaning (11-12-17)
Hardware prep, subframe reinforcements (11-25-17)
Hardware prep, front hub rebuild (12-3-17)
Chassis wiring harness restoration (12-18-17
Hardware prep, engine teardown, powdercoated parts return (12-26-17)
Ongoing chassis harness restoration (12-30-17)
First major order of new parts (1-9-18)
First batch of plating returns, suspension parts arrive (1-11-18)
Build out of suspension, brake sub assemblies and driveshaft (1-13-18)
Differential rebuild (1-15-18)
Differential rebuild completion, power steering pump rebuild (1-20-18)
Suspension subassemblies completed (1-25-18)
Side molding restoration (1-28-18)
Wheels, tires, vapor honed parts arrive (2-3-18)
Shifter, steering column rebuild (2-4-18)
Transmission vapor honed, drive axle rebuild (2-21-18)
Cylinder head teardown (2-24-18)
Exhaust ceramic coated (3-27-18)
Throttle body rebuild (4-14-18)
Cylinder head vapor blasted, port work ongoing (4-21-18)
Cylinder head reassembly (4-26-18)
Core support removal and replacement (4-28-18)
Spraying the beige chassis undercoating (5-12-18)
IHKA blown apart and rebuilt (8-25-18)
Chassis moved to Imperial Collision, real bodywork and paint begin (11-16-18)
Bodywork nearing completion on chassis, first coat of high build primer (11-29-18)
Engine bay prep for paint, bodywork of loose panels (12-4-18)
Final chassis prep, panel fit, spraying textured coating (12-13-18)
Interior and engine bay recieve primer sealer (12-15-18)
Trunk, interior and engine bay finished in base/clear (12-15-18)
Brake caliper rebuilds (12-16-18)
More body work, long blocking chassis (12-22-18)
Fuel tank and steering column subassemblies ready to install (12-24-18)
Installing lines, fuel tank, suspension assemblies on chassis to remove from rotissierie (12-26-18)
Alternator teardown (12-30-18)
Alternator rebuild (1-3-19)
ABS pump rebuild (1-5-19)
Starter motor rebuild (1-6-19)
Chassis sees second coat of primer (1-9-19)
Front end sheet metal hung, more guide coating and blocking (1-18-19)
Brake booster refurbishment (1-27-19)
Chassis back masked, ready for exterior paint (2-8-19)
Alternator and ABS pump rebuilds complete (2-12-19)
Chassis in white, its finally painted (2-13-19)
Small and loose body parts painted, clearcoat wet sanding and buffing (2-24-19)
Car finally comes home, retrimming ensues (3-1-19)
Chassis harness install, sound deadening, carpet, pedals (3-3-19)
Reassembly, AC condensor, lights, grills (3-4-19)
Wiper transmission rebuild, install. IHKA install (3-5-19)
Coil pack and power antenna rebuilds, more assembly (3-10-19)
Side mirror rebuild (3-13-19)
Window lining prep, paint and installation (3-17-19)
Lower skirt prep and paint (3-17-19)
Rear brake lines, inner door workings, headlamp wiring adapters (3-17-19)
Front and rear suspension detailing, brake calipers and rotors installed (3-23-19)
Dashboard installation, column switch refurbishment (3-26-19)
Steering wheel, dash controls, radio installation (3-28-19)
New brake line fabrication (3-30-19)
Instrument panel SI board battery replacement (4-10-19)
Instrument panel installed, testing lighting and electrical function (4-13-19)
Install headliner, rear/side glass and new windshield (6-8-19)
Premium speaker refurbishment (8-3-19)
Rear parcel tray recarpeting (8-8-19)
Front seat slider rail refurbishment (8-18-19)
Cylinder head coolant nipple repair, seat belt button refurbishment, new washer tank (10-13-19)
Engine block returns from machine shop, engine build begins (11-30-19)
Engine build, front timing case update, alternator hung (12-1-19)
Fuel injection rail, engine harness refurbishment, intake hose build out (12-7-19)
Engine build stalled waiting on pistons, polished camshafts, front door linkages & vapor barriers installed (12-15-19)
JE pistons arrive, engine build rapidly progresses (12-26-19)
Final engine dressup and installation into the chassis with transmission (12-27-19)
Accessory installation, plumbing, wiring engine support systems (12-28-19)
Muffler ceramic coated and installed (1-4-19)
Andy Cuadra Professional Photoshoot (1-5-20)
Brake system bleeding woes (1-12-20)
XPEL Clearbra application (2-25-20)
Seat tear down and preparation for upholstery (3-7-20)
Seat frame repair and mechanism refurbishment (3-8-20)
Interior kits arrive and upholstery begins (4-20-20)
Seats built and installed in car (4-25-20)
Very first test drive (5-3-20)
ABS complete teardown and rebuild (6-6-20)